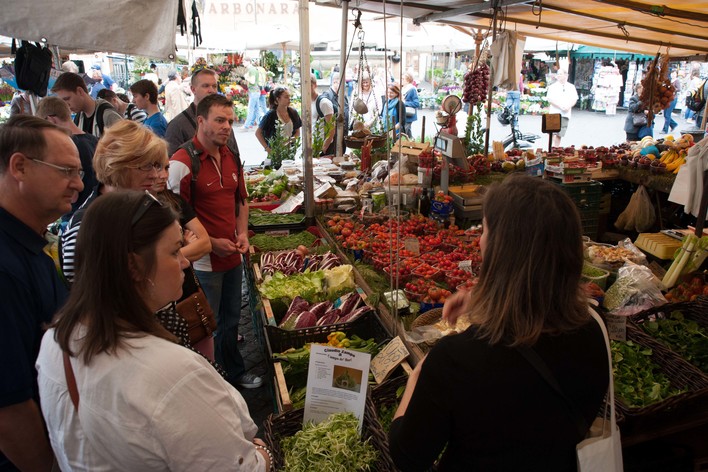 Live an authentic experience led by a local expert food connoisseur, who will take you through a number of Rome neighbourhoods to visit the most famous food markets, groceries, coffee shops, gelaterias, and restaurants in town.

Learn everything about Roman food style, how to orientate yourself among the huge offer of restaurants without fall into a touristic one. Taste some of the delicious food and wines for which the city is famous, including mozzarella di bufala, salami, pizza, mortadella, gelato, supplì, pasta.
From fried codfish in the Jewish ghetto to spices and vegetables in Campo de' Fiori, ignite your senses and burn some calories all while you enjoy walking amongst the beauty around you.
The personalized commentary from your foodie guide will include an overview of Italian culinary habits, a description of any seasonal events taking place at the time of your tour, and an introduction to selected specialties found in the main shops.

Learn how to order food in Rome and where to find the best food in town.
Follow your nose and let your stomach lead the way through Rome on this delicious gastronomic journey!
All year round walking tour to market, restaurants, groceries, gelateria with tasting in different locations.
Best pizza bianca with mortadella tasting
Water buffalo mozzarella cheese tasting with Roman salami
---
~
Pasta tasting in Trastevere
Jewish Ghetto groceries and tasting of typical roman food (fried artichoke, supplì, codfish)
---
~
Artisanal gelato in Trastevere
---
~
water and local wine