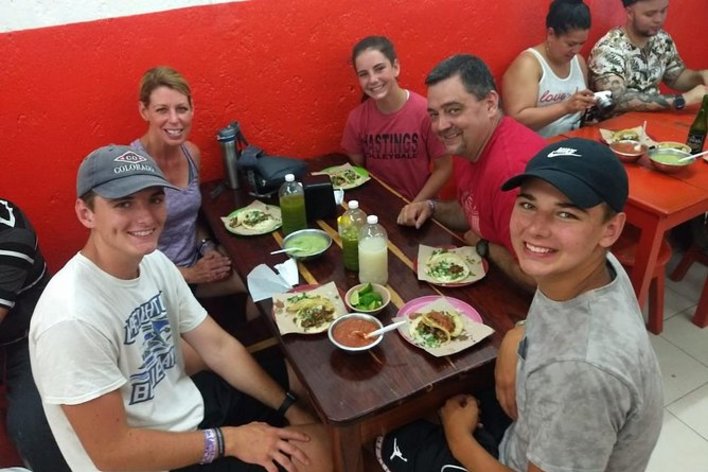 The downtown area of Playa del Carmen may be one of the city's most popular tourist zones, but there's another part of Playa del Carmen that visitors and tourists rarely see. An area where the city's young heart beats a little louder.

Under the Caribbean sun, this is the place that saw the boom of immigrants from all walks of life and areas of the world – from Italy and Turkey, to Chiapas and Mexico City – bringing with them their incredibly distinct cuisines and cultures.

Once a sleepy fishing village only a few decades ago, Playa del Carmen is now one of the fastest growing cities in Latin America – with traces of traditional food from all corners of Mexico.

On this three-hour walking food tour, we'll deep dive into a Mexican food + cultural experience in one of Playa del Carmen's most unassuming neighbourhoods – an area of the city that's managed to stay under the radar while other parts of the city have become popular visitor destinations.

We'll explore the culinary diamonds of Playa del Carmen's most authentic and local food, while at the same time becoming deeply aware of the Mayan Riviera's history, culture and geography – and how they all work together to create the world's most-loved cuisine: traditional Mexican food.

Our first stop takes us to Playa del Carmen's most historic and central park, where your expert local guide will share insights into the area, the history and culture. From there, we will begin making our way into the backstreets of Playa del Carmen beyond the throngs of tourists, where we will try a handmade snack that's been part of the Mexican diet since before the Spanish arrived on ships to the New World. We'll also dig into an extremely Mexican style of quesadilla, prepared on the spot with a special ingredient considered a delicacy in the area.

From there, we'll stop by a family-run market where they stock hard-to-find and seasonal fruits, vegetables and fresh-squeezed juices, where you'll be able to learn all about these exotic foods from your expert guide. Continuing on our journey, you'll make stops and eat at various locally owned and operated restaurants and street stalls – digging into places that are famous for their secretly-spiced tacos: cochinita, carnitas, pastor and more. Among many of the local institutions we visit, you'll be able to continue gleaning more knowledge and insights into the history, food and culture from your guide.

And if those places weren't enough, we continue on to another local restaurant that's known for the best chocolate-spiced mole in town, and then we will finish our walk on a sweet note: at one of Playa del Carmen's best, handmade popsicle shops. Here we'll try classic, Mexican ice or milk-based frozen lollies that are infused with the local, exotic fruits of the area.

A unique and completely incomparable experience with a knowledgeable guide that accompanies you in this three-hour tour around the city, typically away from common tourist hot-spots. If you have an adventurous spirit and want to taste the authentic flavors of Mexico and meet its people, this is the tour for you.

With small group tours of no more than ten departing daily, you'll receive a highly immersive, generous and friendly experience. Perfect for couples, groups of friends, and families
On our walk, we'll try tamales, huitlacoche, tropical fruits, pastor, sorted meat tacos, mole, traditional popsicles, and more.
---
~
On our walk, we'll try tamales, huitlacoche, tropical fruits, pastor, sorted meat tacos, mole, traditional popsicles, and more.
---
~
On our walk, we'll try tamales, huitlacoche, tropical fruits, pastor, sorted meat tacos, mole, traditional popsicles, and more.
---
~
We'll offer you traditional flavored water, and tropical local fruit juices.