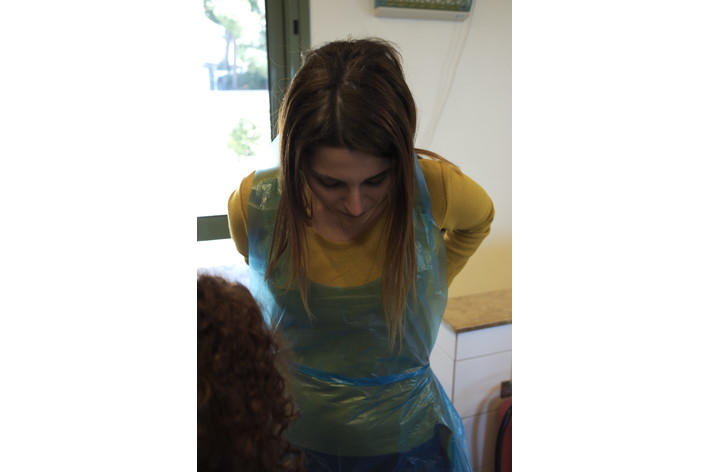 A 6-hour gastronomic experience that includes a tour of the traditional food preparation area, the cookware museum and the village. Experience the best that Greek nature has to offer, learn some of the secrets of the Greek cuisine and feast on traditional local products.

You will visit an Arcadian workshop in a small village in Gortynia, Arcadia, 70km (45 mi) from Kalamata.
The workshop produces traditional products and is inspired by the Arcadian nature. Built on 2.5 acres of land, the place offers stunning views towards Mt. Lykaio and the village of Karytaina.

The two-storey stone-built establishment also houses a library with over 650 cookbooks, where you can discover age-old local recipes; a cookware museum, showcasing items used by Greek housewives in villages as far back as the beginning of the 1900s; and a restaurant that serves local delicacies.

Part 1: The Workshop
You'll participate in a guided tour of the Arcadian workshop, including the traditional food preparation area, the cookware museum and the library.
Leaf through old cookbooks and view rare 19th century photos in the library. Or take a step back in time and get a taste of village life back in the 1900s in the museum!

Part 2: Vegie Picking & Cooking Class
You'll get to pick fresh vegies from the garden and feel closer to nature than ever (veggie picking is only available from March to October).

You may also participate in cooking classes with Rita, a local cook, and learn how to make traditional hylopites (egg pasta), trahana (fermented milk pasta), spoon sweets, jams, pasteli (sesame seed bars) and other local delights. What could be better than enjoying authentic Mediterranean cuisine prepared by your own two hands?

Part 3: Traditional Local Feast
You'll have lunch at the restaurant, where you will feast on local products from the Arcadian workshop and other local producers.
The meal includes appetizers, mains and dessert, accompanied by organic wine (red, white or rose), soft drinks, Greek coffee or tea.

Part 4: Shopping at the gift shop
You'll get the chance to find more than 50 local delicacies at the gift shop, including walnut kourabiethes, melomakarona, skaltsounia, pasta, spoon sweets, pine honey, local myzithra cheese, Greek herbs and spices.
What's more, you can lock a bit of Greek flavour in your suitcases and take it back home, by selecting any of the amazing products available for sale!

Part 5: Stroll through the Village (optional)
Enjoy a stroll through the small cobblestone lanes and immerse yourself in the local culture. Find out the local history of the small village and the humble beginnings of the Arcadian workshop back in 1980.
The stroll may also include a visit to the local Primary School Museum.
This part of the tour is only available if time permits.

Any day · 09:00 a.m - 15:00 p.m.
• All-year round from Monday to Saturday excluding Sundays and official holidays.
• March to October for vegie picking.
• Suggested starting time: 09:00 a.m. - Duration: 6 hours.
• Min. of guests: 5
• Languages: English & Greek.
• Wheelchair accessible 100%.
• Family friendly.
• Tips & graduities: optional

Please:
• Notify us of any special dietary needs (e.g. vegetarian, vegan, pescaterian, flexitarian etc.)
• Notify us of any allergies (e.g. allergies to food, allergies to bees etc.)
• The dishes can be adjusted to your dietary needs and preferences.
• Inform us if you are less than 5 or more than 20 participants, e.g. couples, families, friends, so as to
request a price.

If you do not have your own vehicle, you can meet us in Kalamata and join the tour in our vehicle, at an extra charge.
Mezedes & local delicacies depending on the season!

Greek Arkadian delicacies such as, pihti (stewed pork meat with vinegar & lemon), kalamata olives, sfela cheese, chorta (assorted greens), sygklino or pasto (Cured pork smoked over herbs, boiled in orange juice, with cloves, orange peel and spices), kagianas – Omelette cooked with fresh tomato and sygklino or traditional sausage...
Combined with Greek mezedes, like keftedakia (carefully kneaded minced beef balls), tzatziki (garlic dip with yogurt), tyrokroketes (cheese balls), saganaki (fried feta cheese tossed in flour) and the list goes on...

---
~
Our main dishes are also based on traditional greek recipes and always cooked with seasonal ingredients.
Some typical local dishes are:
Lagoto - Stewed pork meat cooked with garlic, walnuts and cinnammon.
Hoirino me damaskina - Roast pork cooked with plums and brandy.
Kokkoras with spaghetti– Rooster cooked in red sauce and served with spaghetti and myzithra cheese.
Zablarikos - Trahana soup (fermented milk pasta) served with butter and stale bread.
Tsiladia - Cod fish dish cooked with vinegar and black raisins...
---
~
Local cheeses like feta cheese, or graviera (gruyere), or saganaki, or sfela (local cheese) or myzithra (local cheese).
Handmade Greek pies (pites in Greek), such as mizithropita (cheese pie made with the local cheese), tyropita (cheese pie), or spanakopita (spinach pie), or kolokithopita (courgette or pumkin pie).

Local desserts such as:
Sfiggoi with honey and cinnammon - Fried dough made with butter, eggs and sugar.
Kourabiethes - Christmas butter cookies - Spiced cookies made with fresh butter and almonds.
Galopita – Traditional pie without pastry, made with milk, eggs, sugar and semolina.
Diples – Fried thin sheet-like dough, topped with honey and walnuts.
Spoon sweets – Known as glyka tou koutaliou, they are made from fresh seasonal fruit.
Halva simigdali – Traditional pudding-like dessert made with semolina and sweetened with syrup.

---
~
Local wine (red, white or rose), homemade liqueurs, soft drinks, Greek coffee or tea.